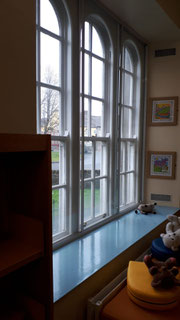 We have exciting Secondary Glazing projects completed on homes along the M50 South motorway at Airton Rd, Shankhill, together with a Period home near to Ballymahon, Co. Longford.
In Shankhill, Secondary Glazing was recommended to minimise noise levels and the latter was onto existing single glazed sash windows to reduce energy costs and make the home more thermally efficient.
Our clientele living along M50 motorway have confirmed the complete success of our Secondary Glazing for Sound Proofing and our Ballymahon clients have confirmed to us that as a result of our Secondary Glazing work their home is now much warmer, easier to heat and when the houses warm up - the heat is retained for much longer, making them much more comfortable and thereby saving dramatically on fuel consumption!!
Three clients, dwelling in Dun Laoire Co Dublin, living in a beautiful complex in a scenic location with sea views contacted us regarding getting our Secondary Glazing fitted to reduce U value's and assist with noise levels as result of road noise.  All three clients have had our Secondary Glazing fitted to their windows and door and the results have been excellent. All three commented on the Energy-Saving value of our product.
One client, whom we were in communication with during the 'Red Alert' days in early March last, commented that when she opened the Secondary Window during the cold snap – she couldn't believe the difference it had made. It didn't effect visibility, which was an important consideration and was easy to use. 
Hotels:
In 2016, The Gandon Inn Hotel, Emo, Portlaoise, Co. Laois had bedroom windows fitted with our Secondary Glazing to lower 'U'values, reduce noise and retain heat.
 In 2017, Benners Hotel, Dingle, Co. Kerry had their road-facing windows Secondary Glazed to mediate road noise.
In 2015, Cryan's Hotel in Carrick On Shannon, Co. Leitrim – Sound Proofing of all bedroom windows.
Offices:  
On Lavitt's Quay, Cork City, had their office windows Secondary Glazed to give practitioners and clientele a quiet meeting environment.
Guest House:
A well-known business premises in Fermoy, Co. Cork had Spiral Balance Secondary Glazing fitted to Sliding Sash Windows for Energy-Savings.
Restaurant:
A leading restaurant on Fitzwilliam Square, Dublin had Secondary Glazing fitted for noise insulation and client comfort.  
In Sligo a leading solicitors had Secondary Windows installed onto Period Sliding Sash Windows for Energy-Savings and Sound Proofing for staff comfort. 
Other projects carried out in recent times include:
Apartments in Temple Bar, Dublin – Sound Proofing
Private Home In Kildare Town
Apartments In Pudding Row, Dublin City
Apartment In Townsend St, Dublin
Apartments InLeeson St, Lr, Dublin
Guest House In Dingle, Kerry
Apartments InLiffey St, Dublin
Apartments On Ormond Quay, Burgh Quay, Aston Quay, Capel St, Dublin
Sound Proofing Of Windows
We are fitting Secondary Glazing in on-going works in leading Hotels in  Dublin, Hotel and Townhouse Guest House in Dingle, Co.Kerry, a newly opened Hostel on Old Dublin Rd, Drogheda, a doctors surgery on Fair St, Drogheda, a farmhouse in Ballycarney, Enniscorthy, Co. Wexford, together with Sound-Proofing of windows in apartments in Castleforbes Square, Dublin, Mt Merrion, Dublin, Sandyford, Dublin,  Dundrum, Dublin, Strand Rd, Dublin, Strand St & Liffey St, Dublin, Upper Rathmines, Dublin, Richmond St, Dublin, Clonhugh, Mullingar, Co. Westmeath, South Douglas Rd, Cork, Teeling St, Sligo, Ballybofey, Co. Donegal, Carrickmacross, Co. Monaghan, Harcourt St, Dublin, Malahide Rd, Dublin, Donabate, Co. Dublin, Sallins, Co. Kildare, Naas, Co. Kldare, Airton Rd, Rathfarnham, Dublin, Mullingar, Co. Westmeath, Castlebar, Co. Mayo,  Ballina, Co. Mayo, Newbridge, Co. Kildare, Wexford Town, Julianstown, Co. Meath and many more nationwide.
Major refurbishment works have been carried out at a Cork City Hotel (The Ashley Hotel, Coburg St) including having our Secondary windows fitted to combat road noise with total success. We also fitted our Retrofit Door Seals here on all the bedroom doors.
In our next blog we will be featuring Sound proofing works carried out in a new hotel in Cork City together with a major Sound Proofing contract in East Wall, Dublin.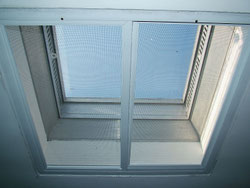 Flyscreens & Flydoors
WIND-DO SEAL LTD are proud to be the first Irish company to design, patent, fabricate and fit our own range of Flyscreens and accessories for all Irish window types and we have been recently contracted to supply our De Lux Frame Flydoors to both The North Pole and The South Pole.
We have just received orders to fit our Heavy Duty, patented Flyscreens during month of May – 
In private homes in:
Brownstown, Hollymount, Co. Mayo,
Patrickswell, Limerick, 
Adare, Co. Limerick, 
Castlemaine, Co. Kerry,
Tralee, Co. Kerry,
Castleforbes Square, Dublin,
Lisnalurg, Sligo
Knocklyon, Dublin
Flyscreening Systems to surpass HACCP, FSAI, Dept Of Agriculture & Global Hygiene Legislation Requirements in: 
Flyscreens on windows and doors in Private Home In Kilnaleck Cavan
Flydoors in Nursing Home in Beltrubet, Cavan
Flyscreens in Catering Business in Milltown, Athy, Co. Kildare
Flyscrens in Catering Business in Swinford, Co. Mayo
Flydoor at Restaurant in Clondalkin, Co. Dublin
Flyscreens and Flydoors for thriving businesses in Killala, Co. Mayo,
Flydoors and Window Screens In Butchers In Kilrush, Co. Clare
Flydoors and Window Screens In Butcher Shop In Kilkee
Flydoor and Window Screens In Butcher Shop In Lisdoonvarna, Clare
Flydoor and Window Screens In Butcher Shop IN Kiladysert, Clare
Flydoors and WindowScreens In Hotel in Ballyvaughan
Flydoors and Window Screens In Restaurants In Ballyvaughan, Clare
Flydoors and Window Screens In Guest House In Castlemurray, Donegal
Flydoors and Window Screens In Hotels In Donegal Town
Flydoors and Window Screens In Bakery in Ardara, Donegal
We have recently carried out Flyscreening work for the HSE at locations - 
In Dublin 
St James's Hospital
Temple St Children's Hospital  
The Rotunda Hospital
In Donegal 
St Joseph's Hospital, Stranorlar, 
Letterkenny General Hospital, 
Killybegs Hospital, 
Dungloe Hospital, Dungloe, 
St Joseph's Hospital Carndonagh  
In Mayo 
Mayo General Hospital, Castlebar,
Swinford District Hospital,
Ballina Community Hospital,
Belmullet District Hospital, 
Dalton Home Claremorris,
Sacred Heart Hospital Castlebar,
McBride Home Westport 
In Sligo 
Sligo General Hospital
St Johns Hospital, Sligo 
Cregg House at Ballincar, Sligo, 
In Galway 
University College Hospital, 
Merlin Park Hospital,
St Brendan's Hospital Loughrea,
Portiuncla Hospital Ballinasloe, 
In Limerick 
St Ita's Hospital, Newcastlewest, 
St Camillus's Hospital Shelbourne Rd Limerick
HSE Day Care Centres, crèche facilities and community hospitals in most counties in Ireland.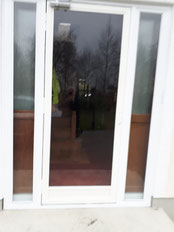 Storm Doors
We have just fitted our 100th '' Storm Door'' - a refined powder-coated, colour- coded aluminium screen door, usually fitted onto its own extension framing, which can be fitted outside of any door to help protect the existing door from the elements during winter months – has been available in Ireland since 1995. 
This door can eliminate the possibility of having to change your beautiful hardwood door.  The Storm Screen Door, fitted independently of the existing door (on drop-pin cast steel hinges), can be removed easily for the summer months if necessary.  
Available as standard in a choice of white or brown and all RAL colours can be matched at extra cost. 
RETROFITTED DOOR & WINDOW DRAUGHT PROOFING SEALS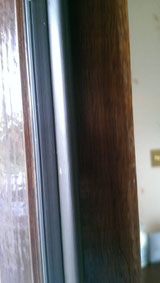 Our quality retrofit door draught-proofing system, suitable for all existing wooden windows and doors, has been the choice of professionals since 1989 and continues to be the most successful available in Ireland. 
It fits snugly onto the door jambs externally. The Retrofit seal is fitted with the door in the closed position, taking account of the differing gaps that may have appeared over time, with a 30% compression applied, fitted into place on the jambs with stainless steel pins. When the door closes it moulds to the shape of the door – like your car door seal moulds into the shape of the door, rendering it practically air-tight against draughts and further prevents heat loss. 
Available in a choice of white or brown.