Fly Screens for Doors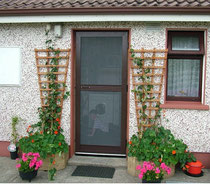 Standard Flydoor
Custom Made

Surpasses all 2001 HACCP &FSAI Food and Hygiene Regulations
Can be fitted to all door types
Selection of auto-closers available
Available in white and brown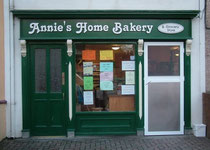 Heavy Duty Industrial Flydoor
For business use – delivery door areas / high usage areas etc

Added strength – strong, powder coated, mitred aluminium frame

80mm x 80mm x 20mm

 deep with inbuilt aluminium corner cleats
Easy Removal – fitted with drop pin, colour coded, cast steel hinges
Optional Reinforced Perforated Aluminium panel in base (to134cm high)
Surpasses all 2001 E.U Hygiene Legislation requirements.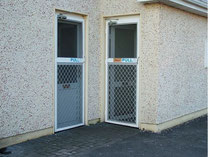 Heavy Duty De Luxe Flydoor
Robust and attractive – grille decorates and protects
Horizontal mid-rail and kick plate as standard
Available in a choice of colours
This model can be fitted with different mesh types and a matching grill on one side to protect the mesh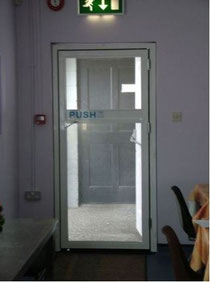 Fire Door Flydoor
Our Custom Made Two Way Swing Model
Can be fitted to any Wooden, PVC, Steel or Aluminium door
Unlike our other models this door is fitted with its own extension frame.
Works on its own two way swing, double acting two way hinges
Fitted to enable existing door and Flydoor to open out simultaneously
Meets all E.U 2001 HACCP & FSAI Food & Hygiene Regulations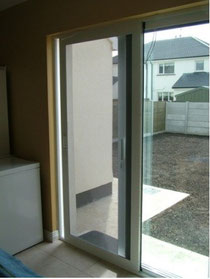 De Lux Sliding Patio Flydoor
Our most attractive product (if we do say so ourselves!)
Fitted to the outer framework of the Patio Door - internally on most doors
Also possible to have a double sliding system fitted externally if required
Slides within its own outer frame
When not in use the Single Flydoor slides over the unused section
It fits against the existing outer framing of the door and glides along in its own Custom Made outer framing on sprung-loaded wheels.The Flydoor can slide over the fixed panel when not in use.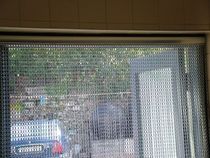 Chain Link Flydoor
Cheap, yet effective alternative for Flyscreening on commercial premises as well as rear doors on domestic situations
Made from powder coated aluminium chain links
Can be easily fitted to any door width
Comes with its own top track fitted to over door opening
Chains are trimmed to height of opening space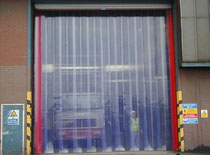 PVC Strip Curtains
In order to offer the complete screening package we can supply & or fit a range of PVC Curtains in a choice of colours so that even very large openings can be successfully screened
Ideal for Walk In Chills, Freezers, Loading Bays, delivery vehicles
Suitable for warehouse doors or doorways which may require dust / draught proofing or where it is not possible to fit conventional Flyscreening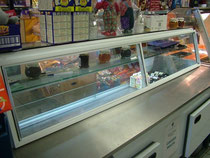 Deli Counter Screens
Ideal sliding system for fitting on server side of serve – over shop display units
Keeps out flies, while preventing energy loss by using glass instead of mesh
All aluminium framing, both outer and inner is powder coated
Available in in white or brown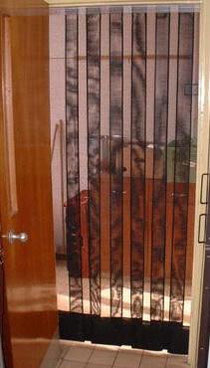 PVC Coated Perforated Mesh Curtains
Used instead of chain link flydoor
Can be used in a low traffic area such as doors used for ventilation only
Suitable for domestic use
Available in both standard and heavy duty strips (200mm wide)