Secondary Glazing
What is Secondary Glazing?
Secondary Glazing is the installation of a second pane of glazing inside an already existing pane. It is a cost effective solution to double glazing as the existing window is preserved and the secondary glazing provides many of the same benefits.
At Windowseal we can provide custom built and fitted secondary glazing to suit any of your needs.
Benefits of Secondary Glazing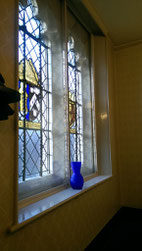 Windowseal Secondary Glazing Systems are the best solution to:
Getting rid of draughts and cold-zones around existing windows
Increasing insulation levels in the building and also retaining expensively generated heat thereby maintaining comfort levels
Providing extra security to primary windows (units come with additional finger locking devices)
Dramatically reducing noise levels (up to 70%)
It costs only a fraction of cost of replacement windows 
Installation normally takes only one day with minimal disruption – there is no mess and windows resume normal duty on same day.
Our Secondary Glazing Technology
We use Add-A-Pane Secondary Glazing to negate draughts (100%) and get rid of cold zones around your existing windows, increase comfort levels, improve security levels, reduce energy bills, dramatically reduce noise levels - up to 70% reduction is noticed in reduction of outside noise transmitted indoors when Add-A-Pane Secondary Glazing is fitted and also add value to your property. 
Add-A-Pane Secondary Glazing is stylishly designed to blend in unobtrusively to most windows, with alternative types of tracks to suit different styles of windows. Efficient double-sealing panels are easily removed for painting and decorating etc.
More images available in our gallery
Technical Info for our Secondary Glazing Products
File Download
Specification leaflet for our secondary glazing and sound proofing system
Specifications.pdf
Adobe Acrobat Document
35.5 KB
Technical specifications & drawings of profiles
Secondarys Drawings all Sheets V1.2.pdf
Adobe Acrobat Document
1.5 MB